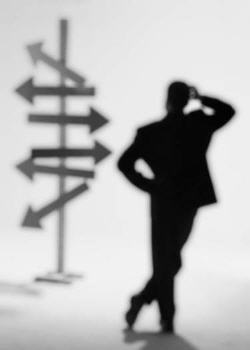 Since I've written a popular post on how to use StrengthsFinder for career assessment, I've received a number of inquiries asking some variation on the following questions:
I have the following StrengthsFinder themes, so what job do you recommend for me?
Given my StrengthsFinder themes, am I in the right career?
How do I transition from my current job to another more consistent with my themes?
Lets take each of these questions in turn, below.
Can StrengthsFinder recommend particular jobs for me?
One big problem with this question is that StrengthsFinder just isn't built to suggest specific jobs based on your strength themes. As the makers of StrengthsFinder themselves admit:
"[StrengthsFinder] is not designed to direct you into specific professions. Although certain themes do appear to be quite consistently dominant within certain professions, it would be wrong to say that a given profession requires dominant talents in certain themes. During our research, we discovered many individuals who were excelling in the same profession but who had very different top five themes."
And you know what? I agree with this: StrengthsFinder just isn't useful as a job recommendation tool.  Each strength has applicability in so many different fields that I think it would be reductive and inappropriate to guide people into a particular career just because of just a handful of strength themes.
You may also have noticed that some StrengthsFinder themes are fairly useless for guiding you into a particular job or industry. For instance, I'm a "Relator." This theme tells you nothing about my ideal industry or company role. Rather, it tells you that I need a certain type of workplace: one that is fairly flat (i.e., non-hierarchical and egalitarian) and where I can trust my boss and my colleagues. So my being a "Relator" tells you only about the organizational culture I need to look for, not a particular type of job I'm suited for.  If a person has a number of these "soft" themes, it's nearly impossible to say that they should go into a particular career or industry.
In other words, StrengthsFinder can tell you what you like and dislike, but it's not a career recommendation tool. Plus I believe it's unlikely that ANY diagnostic tool is going to know the differences across all possible jobs, and slot you into the right one.  The important takeaway is that there simply is no one-to-one relationship between your strengths and a particular job or set of jobs.
Can StrengthsFinder tell me if I am in the right career?
I don't think StrengthsFinder can tell you if you should be happy in your current career either.  The reason is that each profession can often "contain multitudes" — that is, it can have a number of subareas that may cater to people with very different themes.  Sometimes if you find the right job or specialty in your career, you may end up being a lot happier.
Take marketing, for example. I like marketing in general, but different marketing specialties exercise quite different strengths, and some areas do not suit me at all. For example, I'm not big on event marketing, which is all about repetitive planning, logistics, improvisation, and people management — or maybe "people corraling" is a better way to put it. I find event marketing alternately boring and exhausting, and guess what? It doesn't satisfy any of my StrengthsFinder themes either.
By contrast, I love strategic marketing and digital marketing, which exercises more of my strengths — usually.  Online marketing satisfies my "Strategic" and "Intellection" sides, for sure. But I'm also an "Input" themed person, so I find it boring to work on just one online marketing channel.  I prefer to work on several marketing channels at once, which allows me to get learnings from a variety of sources, and apply these across my whole marketing strategy.
Again, StrengthsFinder can help you identify what you like and dislike about your particular job, but some careers contain so much variation that again, it would be silly to tell you to leave a career just because you don't feel suited.  It would make much more sense for you to investigate your options first, using the process I describe below.
How do I transition to a career more suited to my StrengthsFinder themes?
Let's say you know you're on the wrong career path right now, but you don't know where to go next, or how to make the transition? I advocate a process that depends on where you are.
If you're still in school, the best way is to just try things out: study what interests you, talk to students with work experience in an area, do internships, or help your fellow students start a business or a non-profit. Look for "flow" — that feeling when you're lost in a project and excited by it. Write it down when you feel it, and look for opportunities that let you follow that flow again.
If you're already in the working world, I recommend the following process:
Know yourself.  Know not only your strength themes, but what else is important for you to feel fulfilled and purposeful in a job.  If you're having trouble describing this, you may want to work with a qualified professional coach.
Dream a little. Picture the conditions under which you will best thrive or be challenged, and write them down. Also write down conditions which are simply unacceptable in a job.
Conduct informational interviews. Schedule chats with people who are doing the jobs that you admire or desire, starting with people in your own company, if possible. Ask what the jobs are like, and see what the people who do them are like as well. Ask how they got into their roles, and what training or education they needed. Do they seem happy or unhappy? Ultimately, you want to understand what motivates them about the job. Then ask questions that relate to your strengths. Do they get to use talents or solve problems that fit with your strengths? As you listen, are you excited or bored? I know interviews take time, but it takes much less time than wasting months at a job that's a poor fit. What you learn will help you find out what you truly respond to and what kind of problems you like to solve.
Interrogate your interviewers. When you're actually interviewing for a new job, make sure the job will have challenges you seek — and will not have the dealbreakers you wrote down above. Ask about the work style and strengths of your coworkers.  Most importantly, make sure that the job will feel purposeful, or else you just won't be happy.
Whether it's an informational interview or a "live" one for a real job, it's important to use your intuition: if the job and its challenges are meaningful to you, you will feel a strong attraction. If you don't feel the attraction, don't pursue the job.
In summary, while there may be no magical career guide or job recommendation table for StrengthsFinder, what it does provide you is information that can help you understand the work you should be pursuing.  Agree or disagree? Leave a comment if you find anything.
Special thanks to the talented professional coach Lisa Carpenter for feedback on this post.