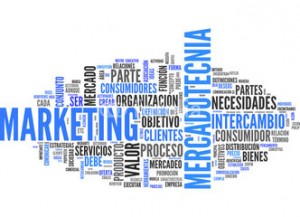 If you do digital marketing in Spanish or many other languages, you quickly realize it's hard to find good translations for English terms that you use every day.
Just look at the word "marketing" itself. You'll find it translated into Spanish as:
mercadotecnia
mercadeo
mercadología
comercialización
marketing
The first three are all the official hispanophilic translations, though almost nobody uses them except for Wikipedia and the Real Academia Española. The fact is, "marketing" is what people most commonly use in Spanish, especially in compound terms like "marketing digital" or "marketing directo."
Translating "search engine optimization" is even worse. You find:
posicionamiento web
posicionamiento en buscadores
posicionamiento SEO
optimización en motores de búsqueda
optimización para buscadores
optimización en buscadores
SEO
Here again, the anglicism "SEO" is probably the most common, with "posicionamiento web" coming next in terms of frequency. I feel like "optimización para buscadores" is actually the most accurate term, given that "posicionamiento" is so ambiguous, meaning also "ranking" and "positioning."
So for the benefit of the Internet, I'm going to provide a list of the most common terms in digital marketing and how to translate them. Any suggestions? Leave a comment below.
| English | Spanish | Category | Notes |
| --- | --- | --- | --- |
| brand | marca | Marketing - Brand | |
| positioning | posicionamiento | Marketing - Brand | |
| value proposition | propuesta de valor  | Marketing - Brand | |
| advertiser | anunciante  | Marketing - General | |
| advertising | propaganda | Marketing - General | |
| advertising | publicidad | Marketing - General | |
| billing | facturación | Marketing - General | |
| budget | presupuesto | Marketing - General | |
| campaign | campaña | Marketing - General | |
| commercialization | comercialización | Marketing - General | |
| communication | comunicación | Marketing - General | |
| marketing | comercialización | Marketing - General | |
| marketing | marketing | Marketing - General | commonly used |
| marketing | mercadotecnia | Marketing - General | Academic Spanish |
| projections | proyecciones | Marketing - General | |
| publicity | publicidad | Marketing - General | |
| strategic marketing | marketing estratégico | Marketing - General | |
| targeting | orientación | Marketing - General | |
| digital marketing | marketing digital | Marketing - Online | |
| sales leads | prospectos | Marketing - Sales | |
| sales leads | posibles ventas | Marketing - Sales | |
| sales leads | ventas potenciales | Marketing - Sales | |
| conversion | conversión | Online - Analytics | |
| conversion rate | tasa de conversión | Online - Analytics | |
| conversion tag | etiqueta de conversion | Online - Analytics | |
| conversion tracking tag | etiqueta de seguimiento de conversiones | Online - Analytics | |
| cost per click | coste por clic | Online - Analytics | |
| CPA (cost per action) | CPA (coste por acción) | Online - Analytics | |
| CPL | CPL (coste por lead) | Online - Analytics | |
| CPM | coste por mil impresiones | Online - Analytics | |
| effectiveness | eficacia | Online - Analytics | |
| efficiency | eficiencia | Online - Analytics | |
| entry links | ligas de entrada | Online - Analytics | |
| entry links | ligas de ingreso | Online - Analytics | |
| exit links | ligas de salida | Online - Analytics | |
| pay per click | pago por clic | Online - Analytics | |
| performance | rendimiento (yield) | Online - Analytics | |
| performance | resultados (results) | Online - Analytics | |
| PPC | PPC (pago por clic) | Online - Analytics | |
| ROI | retorno sobre la inversión | Online - Analytics | |
| tracking | seguimiento | Online - Analytics | |
| tracking code | código de seguimiento | Online - Analytics | |
| blog | bitácora web | Online - Content | Academic Spanish |
| blog | blog (pl. blogs) | Online - Content | Regular Spanish |
| blog post | entrada | Online - Content | |
| blog post | posteo | Online - Content | |
| blogger | bloguero | Online - Content | |
| comments | comentarios | Online - Content | |
| content | contenido | Online - Content | |
| content marketing | mercadeo de contenidos | Online - Content | |
| permalink | enlace permanente | Online - Content | |
| plugin | plugin | Online - Content | |
| template | plantilla | Online - Content | |
| template | tema | Online - Content | |
| banner ad | banner | Online - Display | |
| display network | red de display | Online - Display | |
| online marketing | marketing digital | Online - General | |
| online marketing | marketing online | Online - General | |
| activated | habilitado | Online - SEM | |
| ad groups | grupos de anuncios | Online - SEM | |
| ads | anuncios | Online - SEM | |
| bid (n.) | puja | Online - SEM | |
| bidding | puja | Online - SEM | |
| broad matching | concordancia amplia | Online - SEM | |
| clickthrough rate | tasa de click | Online - SEM | |
| deleted | retirado | Online - SEM | |
| exact matching | concordancia exacta | Online - SEM | |
| Keyword Planner | Planificador de Palabras Claves | Online - SEM | |
| keywords | palabras clave | Online - SEM | |
| landing page | página de aterrizaje | Online - SEM | |
| match type | tipo de concordancia | Online - SEM | |
| matching | concordancia | Online - SEM | |
| maximum CPC | coste por clic máximo | Online - SEM | |
| negative keywords | palabras clave negativas | Online - SEM | |
| organic results | resultados orgánicos | Online - SEM | |
| paid results | resultados de pago | Online - SEM | |
| paid results | resultados pagados | Online - SEM | |
| phrase matching | concordancia de frase | Online - SEM | |
| quality score | índice de calidad | Online - SEM | |
| quality score | quality score | Online - SEM | |
| raise the bid | subir la puja | Online - SEM | |
| search engine marketing | marketing en buscadores | Online - SEM | Common Spanish |
| search engine marketing | mercadotecnia en motores de búsqueda | Online - SEM | Academic Spanish |
| search marketing | marketing de buscadores | Online - SEM | |
| search marketing | marketing mediante buscadores | Online - SEM | |
| SEM | SEM | Online - SEM | |
| backlink | enlace entrante | Online - SEO | |
| bounce rate | tasa de rebote | Online - SEO | |
| crawler | rastreador | Online - SEO | |
| H1 heading tag | etiqueta de encabezado H1 | Online - SEO | |
| incoming link | enlace entrante | Online - SEO | |
| meta description | meta descripción | Online - SEO | |
| meta tag | meta etiqueta | Online - SEO | |
| organic ranking | posicionamiento | Online - SEO | |
| page listings | listado de páginas | Online - SEO | |
| page title | título de página | Online - SEO | |
| ranking | posicionamiento | Online - SEO | |
| results page | página de resultados | Online - SEO | |
| rich snippets | microformatos con dados adicionales | Online - SEO | |
| rótulo | title/heading | Online - SEO | |
| search | búsqueda | Online - SEO | |
| search engine | buscador | Online - SEO | |
| search engine | motor de búsqueda | Online - SEO | |
| search engine optimization | optimización en motores de búsqueda | Online - SEO | |
| search engine optimization | optimización para buscadores | Online - SEO | |
| search engine optimization | posicionamiento en buscadores | Online - SEO | |
| search engine optimization | posicionamiento web | Online - SEO | most common word |
| search engine results page (SERP) | página de resultados del buscador | Online - SEO | common |
| search network | red de búsqueda | Online - SEO | |
| search terms | palabras de búsqueda | Online - SEO | |
| search terms | términos de búsqueda | Online - SEO | |
| SEO | SEO | Online - SEO | |
| width | extensión | Online - SEO | |
| social media marketing | marketing de medios sociales | Online - Social | |
| computer | ordenador | Web - Devices | More common in Spain |
| computer | computador | Web - Devices | More common in Lat. Am. |
| devices | dispositivos | Web - Devices | |
| mobile devices | dispositivos moviles | Web - Devices | |
| tablet | tablet | Web - Devices | |
| account | cuenta | Web - General | |
| browser | navegador | Web - General | |
| browser tabs | pestañas de navegador | Web - General | |
| click | clic | Web - General | |
| clicks | clics | Web - General | |
| code | código | Web - General | |
| domain | dominio | Web - General | |
| home page | portada | Web - General | |
| interface | interfaz (f.) | Web - General | |
| link | enlace (m.) | Web - General | |
| link | liga | Web - General | |
| password | contraseña  | Web - General | |
| piece of code | fragmento de código | Web - General | |
| settings | configuración | Web - General | |
| usability | usabilidad | Web - General | |
| user | usuario | Web - General | |
| user experience | experiencia del usuario | Web - General | |
| web page | página web | Web - General | |
| website | sitio web | Web - General | |