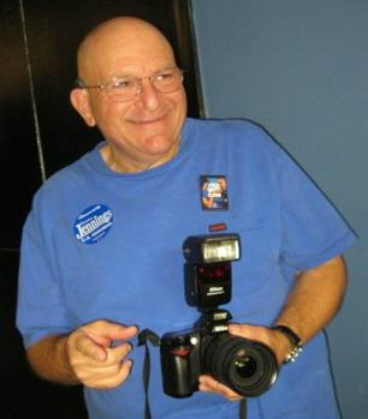 This summary was prepared for Dennis Silver's "Celebration of Life" held on February 21, 2009. 
Dennis Stephen Silver was born June 5th, 1944 in Miami, Florida to Sam I. Silver (later always known as Judge Silver) and Helene Corenblum Silver.  Sam (born in West Blocton, Alabama) and Helene (born in Rome, Georgia) were both Southern Jews, which is not as uncommon as you might think. They married in 1939 and settled in then-sleepy Miami, where they had Dennis.
Dennis didn't get dealt the best genetic hand, inheriting serious deafness (which his younger brother Wayne also had), colorblindness, and juvenile allergies. The latter caused the family to move away from the beach to Coral Gables. Despite the hearing problems, Dennis's mother, an extremely industrious woman, made sure that he and his brother had the best in speech therapy, lip reading skills, and medical treatments to make him function and sound as normally as possible. After rigorous training well ahead of its time, his speech was perfect and most people didn't even realize he had a problem. (His son Daniel, who has perfect hearing, learned from Dennis the art of looking like you understand what's going on even when you don't.)
Unfortunately, those medical treatments to give him a normal life may also have been his ultimate downfall. He was administered "radium treatments," which were mistakenly believed to help open his Eustachian tubes. Turns out that those kinds of treatments increased your risk of thyroid cancer (which he later developed), and maybe also the lung cancer that eventually beat him.
In school, Dennis was an indifferent student but a big party animal. He was always having fun, always at parties, always with friends — not that different from his life fifty years later. His yearbook shows that he was in the Forensics club (unsurprising) and the Chemistry Club (what the…?). He also loved Camp Greenville, a YMCA camp deep in the mountains of North Carolina, serving as both camper and counselor.
Dennis loved college at the University of South Florida — though not for the academics (he studied political science). As a member of the Verdandi Fraternity, Dennis thought beer was food, and he would frequent the now-closed Schlitz brewery in Tampa, which gave away free samples of their greenish beer. Despite what you might guess of a party guy, Dennis had pretty much zero interest in sports of any kind (and his son inherited this). Dennis claimed that he managed to graduate in 1966 by begging for a D+ in Spanish — foreign languages were never his strong suit.
At USF Dennis met Linda S., the daughter of Christian parents. While Sam (and maybe Helene too?) was initially opposed to the marriage even though Linda planned to (and eventually did) convert to Judaism, his parents ultimately relented and financed their wedding in 1967. Linda's parents were not quite so tolerant, declining to participate in the wedding — though they did sit in the back. (The families drew somewhat closer together during the marriage.)
The couple moved to Tallahassee, where Dennis received his Juris Doctor from Florida State University in 1969. After a short stint in Fort Myers Beach, they moved to Sarasota in August 1970, where Dennis remained for the rest of his life — more than 38 years! It wasn't a marriage made in heaven, however, and the couple divorced in 1973. Nevertheless, out of that marriage came two wonderful and brilliant children, Daniel and Valerie. Even after the divorce, Dennis stayed involved in his children's lives as much as possible and served as an important role model for them, seeing them every weekend he could, taking them on far-flung trips outside Florida, and encouraging them to follow their dreams.
Professionally, Dennis worked for a variety of legal partnerships until 1988, when he struck out on his own, specializing in wills, trusts, and collections. His work relationships were also profound friendships, and he always cared deeply for colleagues Darla, Christine, and Jack. He retired in 2004, after 34 years practicing law in Sarasota.
In 1978, he married Janie G., and it was a much better match. Tall and blonde, she made an interesting pair with my father. Also around that time, Dennis took a photography class and got hooked. After a brief period taking artsy photos just as the teachers instructed, he went on to simply take photos everywhere, or everything — especially of Janie. Photography also played an important role in his activities as a volunteer for the Sarasota County Sheriff's Office, the All Faiths Food Bank, and Community Youth Development, as well as in his political interests and foreign travels after retirement. He certainly left behind thousands of prints, and with the digital age he kept upgrading his cameras and his photos-per-event count. We heard that during his Germany trip, he took over 3,000 photos — which meant that he probably took about 20 photos every daylight hour.
Dennis & Janie got their first cockatiel Seymour in 1979. As usual, Dennis didn't do things halfway, and soon he had 6 flying around the house and chewing his books into bits. The birds were moved to the patio in 1983, and there it really went crazy — eventually accumulating 31 cockatiels at some point (OK, a few of those were babies who were given away). They ate turkey too — the cannibals! Even after Dennis and Janie divorced amicably in 1994, the cockatiels were Dennis's children and he prepared their food every morning. Dennis was actually survived by one of the original crew of 6, a gay, 29-year-old cockatiel named Sabra, who Valerie takes care of today. Blind, bald, and ornery, Sabra looks like a vulture. Dennis also became attached to 2 cats: Bluebell, from the early 1970s, and Meeshue, from the 2000s.
In the 80s and 90s, Dennis was highly involved in the Jewish community, being a former officer and board member of Temple Emanu-El of Sarasota and a former charter officer and board member of Temple Sinai of Sarasota. He wasn't religious at all, and would profess merely to a belief in "some kind of higher power."
Dennis's life in the 2000s was revolutionized by his cochlear implant he received in 1999, which gave him practically bionic hearing. He was proud of his impressive performance with the implant and spread the gospel of cochlear implants to everyone — including his brother, who got one several years later. The downside was that we children could no longer squabble quite as openly behind his back.
The 2000s were also the decade of law enforcement and volunteering at the Sheriff's Office. He attended the Citizen's Law Enforcement Academy in 2002, and this chance to learn about the "Eliot Ness" side of the law was "one of the most interesting and fun experiences of my adult life" (his words, really!) He shot a gun, did a ride-along, listened to calls… and it bonded him to the Department as a member of the CLEAR Team. As a volunteer, he worked in the Media Liaison department taking photos at special events, retirements, and awards ceremonies. He also helped on foot patrols on Siesta Key, looking for "ne'er-do-wells." He was always proud to be out in public wearing anything with a Sarasota Sheriff's Department badge on it.
All of us knew Dennis for his active (even frenetic) participation in social service activities right up to the end. He was a member of the Florida Bar Association; the Sarasota County Bar Association (being a member of the Old Timers' Group); the Sarasota Lions Club; the Sertoma Club of Greater Sarasota; the USF and FSU alumni associations; Singles on the Go Travel Club; the Hearing Loss Association of Sarasota; SHHH (Self-Help for the Hard of Hearing); Primetimers; the Florida West Coast Avian Society; the ACLU; Dimage Photography Club; the Sarasota Association of Retired Attorneys; Palms Singles; and many others. Dennis always went out of his way to help people and share his zest for life with others and the community, and this only accelerated after retirement. And in all this, he never asked or expected anything in return, except that others would pass along whatever the good feelings he gave them.
A lifelong Democrat and mostly lifelong political junkie, Dennis was a member of the Sarasota Democratic Club and an associate member of the Sarasota Democratic Executive Committee. As much as Dennis loved watching Watergate, his biggest thrill was getting to work on Barack Obama's election campaign, which he did on phone banks, taking pictures, and doing data entry. When Obama was finally elected, he said his "life was complete" and that he was "the happiest he's ever been."
Everybody — and I really mean everybody — knew Dennis's sense of humor, ranging from hoary old jokes to occasional bits of acerbic self-deprecation. He enjoyed hamming it up, conducting roasts, and talking, talking, talking. With his own children there was a constant barrage of in-jokes and wordplay — nothing very deep (which he would pronounce "dep" — a long story), but one that required occasional interpretation for the benefit of outsiders.
Dennis always loved food — the worse, the better. Chubby as a kid, he stayed chubby as an adult. He could lose weight, but never had the self-control to keep it off. Parties were his downfall — if it could be eaten, and eaten quickly, he'd eat it. County fairs too — what better source of fried foods and sweets? We always thought the food would get him in the end, but no — he beat it!
What else did Dennis love? Backscratchers. Sam's Wholesale Club. Toothpicks. Maraschino Cherries. Wearing loud ties and pastel short-sleeved shirts when on the job, wearing t-shirts, shorts, and sneakers when off. Extra brand sugar-free gum (there are at least 4 generations of Extra packets found around his house). Anything free for the taking and pseudo-classy looking, like paper restaurant towels, swizzle sticks, key chains. Cheap gas prices — even if he had to drive ten minutes to get them — and parking spaces that minimized walking. His helmet-like combover, and when that was no longer tenable, his Prussian baldness. Passing out business cards. Odd, foreign music with high-pitched noises.
Dennis was also a packrat. That combined with garage sale-ing caused him to collect an extremely eclectic collection of junk at his house, which sometimes threatened to overwhelm him. A single oddball purchase could become the nucleus for whole new collection theme, upon which he would expand and iterate — the Teletubbies you see around were one such collection that grew out of control. (Feel free to ask to come by his house and take something!) Dad also had some funny phobias — a fear of heights and fear of anything to do with blood. Just touching him on the neck gave him the heebie jeebies.
Dennis didn't travel extensively in his early years, mostly visiting the UK and the Yucatan peninsula of Mexico, but in retirement, he joined Singles on the Go and visited Italy, Germany, China, Argentina, and Brazil. Daniel wishes that he had more time to show him some of the places abroad in which he lived, but it's not always possible!
When Dennis retired, he continued to use his legal skills to help his children Valerie and Daniel make a dream come true: to own and manage a radio station. Without his assistance, it would have been very difficult for them to manage the long, long negotiation process involved in acquiring the station. Recently he also served as Director of Community Relations — another chance to get business cards out into the community.
Dennis was welcomed and was welcome in all communities. Maybe it was the influence of his father Sam, who fought anti-Semitism in Miami, becoming the first Jewish county-wide official in Dade County (as school trustee) and who selected the first African-American school principal in the county. We think you'll see from the crowd here just how diverse were the people whose lives he touched.
Dennis died on February 15th, 2009, at Sarasota Memorial Hospital, after a two-month fight with lung cancer that had metastasized to his brain. He recovered quickly from initial brain surgery to remove the main tumors and started chemotherapy, but ultimately the ones left behind got him. It was all too sudden, and few of us had the time to properly say goodbye.
If you've read this far, you probably remember Dennis for many, many things that can't all be listed here. But after reading a few testimonials, it's clear that there are a number of common threads. He was always upbeat and outgoing. He was a kind and caring guy to man and beast. He was always there with a joke or a story even when times were difficult, but most often they weren't because he was there. He loved friends and companionship, and was always willing to help out. We called him Dad, Diddy, and Den, and others soon did too, because he became family. And he was always an incredibly happy and optimistic man — a mensch. We're terribly, terribly sad to see him go well before his time, but at least he left quickly and with dignity. And most importantly, we know he'd be happy to have you here in his memory, having a good time the way he wanted you to, without too many tears and with food in your hand.
We love you,
Daniel ("Dad"), Valerie ("Diddy"), and Wayne ("Den")